From about 1832 a small Wesleyan society met in Sketty to worship in English, first at cottages on Gower Road, later on Vivian Road and then from 1858 leased 'The old chapel on the hill' on Gower Road towards Sketty Top Cross. A minister came for weeknight meetings once a fortnight, and once a month on Sundays.
The leaders of the first chapel were John Jones, a blacksmith born in Llangyfelach, James Matthews, a gardener born in Wiltshire, who led the singing, and later John Rogers a market gardener born in Pembrokeshire, who set up the Sunday School.They were joined by Charles Blewitt Jenkins, a Pembrokeshire tailor.
Henry Thomas, a market gardener from Gower, converted  the old chapel in 1870, took over leadership from John Jones. George Blundell, a blacksmith, was Sunday School Superintendent and a leading temperance campaigner.
The members all lived locally and many had moved into the village from away.
In the 1860's two widows of Wesleyan Ministers, Mrs Rees and Mrs Rawlings, settled in Swansea with their children. Mrs Rees lived at Bryn-y-Groes, Sketty and took a prominent role supporting the chapel. Two of the Rawlings sons became Ministers. A third, John Adams Rawlings married a daughter of Mrs Rees, and stayed in Swansea as a doctor, Local Preacher, J.P., Councillor, member of the Board of Guardians and a tireless temperance campaigner.
.  Mrs Rees was a strong supporter of this church until her death in 1909.  The 1897 Place-names of Wales 1897 defines Bryn y Groes, as meaning the "hill of the cross". The following map shows Wesbourne Grove, Bryn yr Groes and the proximity to the Weslyan chapel on Gower road.
Westbourne Grove/Avenue in 1878 was a lane which led to a large field before the current grave yard and gave additional access to Bryn Y Groes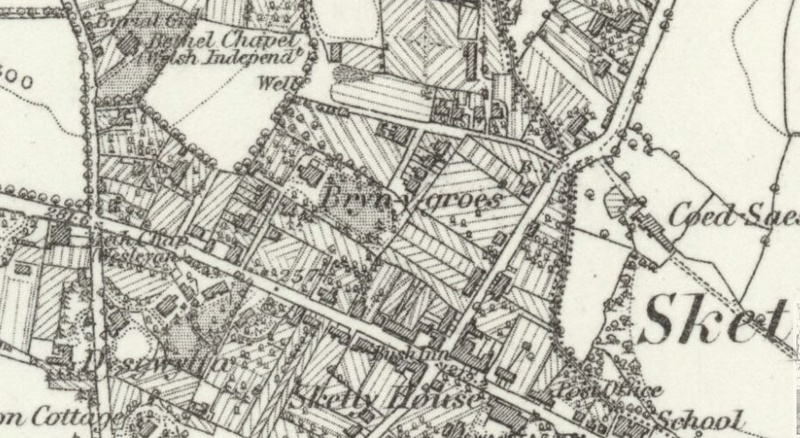 In 1875 the foundation stone of the current Weslyan chapel was laid by Henry Hussey Vivian, M.P. of the copper works family, who had built St Paul's Church. On 11th December 1876 the chapel was opened, with a procession down from the old chapel on the hill in Gower Road at a cost of £2,500.
Little changed at 1896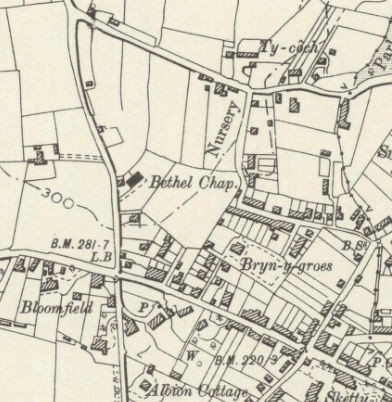 It is very plausable that the churches would have held fairs and money raising events on the field next to Westbourne Grove, newspaper reports suggest the Bethel chapel was often holding fund raising events for an extension they were trying to obtain in the 1900's.
1896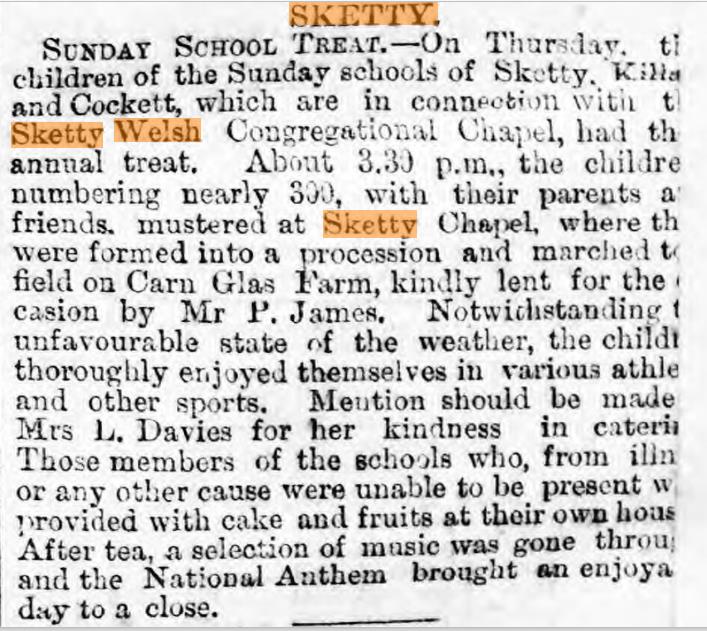 South wales daily post 1910:
The first occupiers to Wesbourne Grove 1921
House Name               Status       Age Occupation             Notes
no.
1 Sidney John Joslyn Head        46 Solicitors Clerk
Alice Joslyn        Wife        47                     Additional Child died
Clifford Sydney Joslyn Son        16 Railway Clerk
Murial Joslyn      Daughter 11 School
Vivian Joslyn         Son         8
Bernard Joslyn         Son         9
2 Thomas Coyswell      Widower 65 Merchants Clerk
Alice Coyswell     Daughter 34
George coyswell        Son         23 Shipping Agents Clerk
3 Evan Rees             Widower 45 Traveller
Mary Jane Rees       single        46 Home keeper
4 Ernest Jones       Head        30 Drappery Commercial Traveller
Blodwen Jones        Wife        28
Ernald ray Jones        Son        3 mnths
Gwen Hill             Servent        18 Domestic Servent
5 Evan Thomas        Head        36 Shop assistant - Clothing
Margaret thomas        Wife        33
Griffith Davies        Single         26 Shop assistant - Clothing
7 John Dimond         Head         30 Mechanical Engineer Colliery Tin Plate Mills
Jane Elizabeth Dimond Wife         30
Vera Diond               Daughter 1
9 John Boxall                 Head 38 Commercial Traveller Cattle Food & Seeds
Rosina boxall         Wife        28 One Child Died
10 Fred Kimberley         Head        46 Engineer draughtsman
Eleanor Kimberley         Wife        47                                  Additional One Child died
Dorethy Kimberley      daughter 9
11 Margaret Gardner Head        31 Shop Assistant drapper
Florence James    Daughter 36
Gladys James        Niece        6
12 John Knapman        Head        38 Sorting Clerk Post Office
Florance Knapman Wife        38
William Knapman        Son        14 Office Boy colliery Office
Douglas Knapman        Son        12 Son
13 Mary Lloyd            Widower        53 No Occupation
Arthur Lloyd       Son        19 No Occupation
Stanley Lloyd       Son        14 School
14 Walter Page               Head        41 Retired Engineer Royal Navy
Cecilia Page               Wife           25
John Page               Son         5
William Page       Son         3
Katherine page    Daughter 1
15 Rachel Jones      Head        50 No Occupation
Maud Johns     Niece        38 No Occupation
16 C.M.Walters          Head       40 Architect
R.S.Walters             Brother       34 Auctineer Clerk
Aubrey Rogers     Nephew       14 Schoolboy
Tracey Thompson  House Keeper   33 houseKeeper
17 Percival Tramlett      Head       31 Engineer Railway Company
Florence Tramlett      Wife       24
19 John Harris              Head       57 Drappery Buyer
Jamie Harris              Wife       55
20 Alfred Hopkins     Head       38 Commercial Traveller - Chemical
Maggie Hopkins     Wife       37
Kenneth Hopkins     Son        8
Margaret Hopkins    Daughter       10
21 Benjamin Rees     Head       38 Grocer
Rachel Rees             Wife       36
Blodwen Rees Daughter      11
Brinley Rees       Son       7
Mabel Morgan Sister in Law     25 Milliner
Mary Lloyd        Servant      21 Single
22 William Thomas Head              32 Tailor
Gertrude Thomas Wife              28
23 Joseph Bradley Head             47 Drapery Cutter
Annie Bradley Wife             45
Gladys Bradley Daughter     22
The following images in the Westbourne Grove gives an idea of how the area looked at the turn of the century: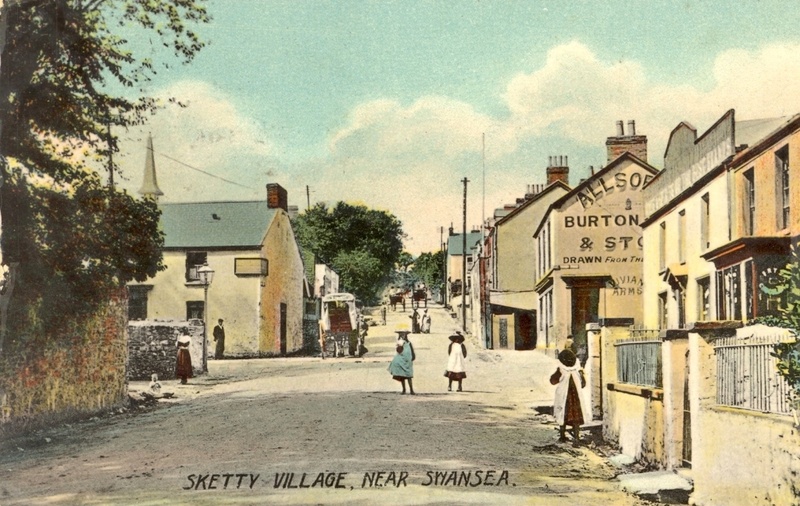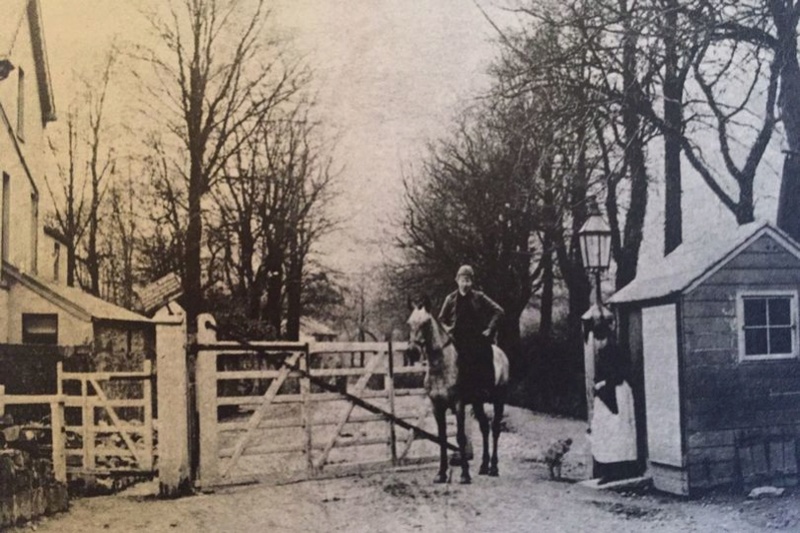 Admin




Posts

: 4


Join date

: 2017-02-19





Similar topics
---
Permissions in this forum:
You
cannot
reply to topics in this forum